---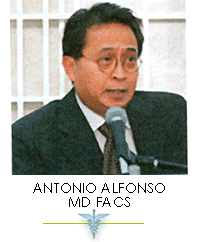 ANTONIO ALFONSO, MD FACS
APPOINTED DEPT. CHAIRMAN

Antonio Alfonso, MD FACS, was recently appointed as Chairman of the Department of Surgery, SUNY Downstate Medical Center , April 16, 2010. An established academician, clinician and educator, he now holds a dual appointment as Chair of the Surgery Departments at both SUNY Downstate Medical Center and the Long Island College Hospital.
Dr. Alfonso, a long time fellow of the Society of Philippine Surgeons in America, graduated with honors with a Bachelor of Arts Degree from Ateneo de Manila University in 1963 and his medical degree from the University of the Philippines, cum laude in 1968.
Hecompleted his surgery residency at Temple University in 1972 and a Fellowship training in Surgical Oncology and Head and Neck Surgery at Memorial Sloan Kettering in 1974.
He joined the Faculty at SUNY Downstate Medical Center as an Assistant Professor in 1974, awarded a tenure and promoted to Associate Professor in 1978 and to Full Professor of Surgery in 1982. He served as Chief of Head and Neck Tumor Service at Kings County Hospital and as Associate Director of Surgical Oncology at SUNY Downstate from i974-1982. He has been a Governor-at-Large of the American College of Surgeons, served on the Executive Committee of the Society of Head and Neck Surgeons, and as President of various professional organization.
Dr. Alfonso has more than 60 peer-reviewed scientific articles and book chapters, has served on editorial boards of scientific journals and has co-authored the book The Practice of Cancer Surgery. His surgical specialty is in Surgical Oncology and Head and Neck Surgery. His clinical interest are in thyroid disorders and thyroid cancer.